Printable Version of Peanut Butter Brownies Recipe
I love brownies!!!  I especially love peanut butter brownies.  These brownies only have raw sugar and brown sugar, no butter or any other unhealthy fats, and I have even made them with wheat flour.  They are healthy and delicious.  Try them! 

- 1 1/2 cup all-purpose flour (or whole wheat flour) 
- 1 1/2 tsp baking powder 
- 1/2 tsp kosher salt 
- 1 cup raw sugar 
- 3/4 cup brown sugar 
- 2 eggs 
- 2 egg whites 
- 3 Tbsp applesauce 
- 1/3 cup canola oil (I like Mazola) 
- 1 cup natural creamy peanut butter (I like Publix's brand)
- 7 Tbsp cocoa powder (I like Ghiradelli) 
- Non-stick spray (Pam Original is what I use)
Preheat oven to 350°. Mix the flour, baking powder, salt, sugar, and brown sugar together in one bowl.  I usually use a strainer in order to remove all of the clumps from the dry ingredients.  The final product will be nice and smooth like so: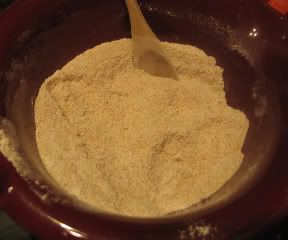 Using a standing mixer, like my BLACK THUNDER, or a handheld mixer, mix the eggs, egg whites, applesauce, and canola oil in another bowl.  Make sure to scrape the bowl periodically to ensure that everything mixes together well. Add the dry ingredients (flour, baking soda, salt, and sugars) to the wet ingredients and mix some more.  
Mix in the peanut butter. Tip: Spray the measuring cup with Pam so that the peanut butter slides right out. 
Scrape the sides of the bowl,add the cocoa powder and mix some more until all the ingredients are completely incorporated.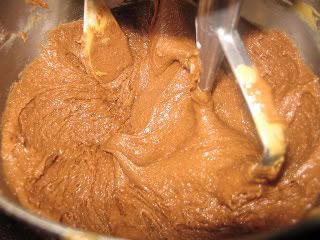 Spray a 13x9 inch pan or whatever that you have that is closest to that size. Pour the brownie batter into the pan and even it out with a spoon.  The batter will be thick so it may take a little work to get it all out of the bowl.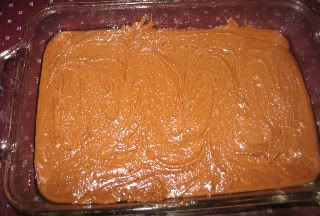 Bake for 30-35 minutes, or until you can stick a toothpick in the batter and it comes out clean or almost clean (you do not want to burn the brownies). After they are cooked they will look like this: 
Let the brownies cool completely before you cut them.  Store them in an airtight container and enjoy your healthy, tasty, low fat brownies!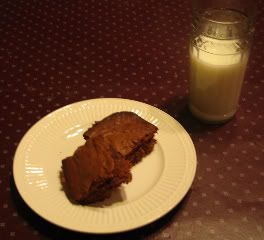 Please let me know how they taste if you make them!