Printable Version of Baked Buffalo Chicken Tenders Recipe
This is one of my absolute FAVORITE recipes.  I find it pretty simple to make and it's very tasty for dinner or to bring to a party. Last year I brought them to a SuperBowl party and they were a hit! Of course, they are very low fat as well, so no guilt over having some "chicken wings". :) 

Ingredients: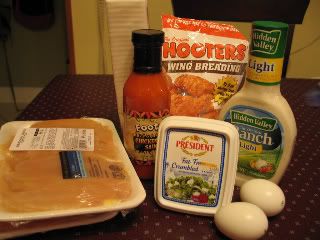 - 1 1/2 pounds of chicken breast, cut into small strips
- 1/2 cup of Hooters Wing Breading (or regular flour with a little salt and pepper)
- 2 egg whites and a little bit of water 
- 1 sleeve of crushed Fat Free Saltines
- 1 bottle of Footy's Wing Sauce 
- Pam to oil the baking sheets
- Celery sticks for snacking
For the sauce:
- 1 container of President Fat Free Feta Cheese Crumbles
- 4 TBLSP Hidden Valley Low Fat Ranch/Fat Free Ranch 
Preheat the oven to 425 degrees. 
Cut the chicken breasts into bite size strips. 
Crush the whole sleeve of saltines using a food processor or a plastic bag and mallet.  I don't like them too finely crushed because then they don't have the consistency of chicken wings.  After you crush your saltines, make your assembly line of chicken, Hooters Wing Breading/flour, egg whites and a little bit of water, and the saltines.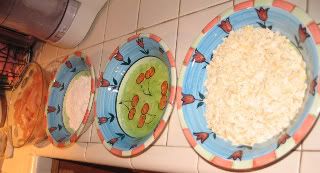 Coat the chicken with the flour first, then dip in egg white/water solution, then in the crackers. Make sure that the chicken is completely coated in the saltine crumbs. I recommend that you only use one hand to do this, otherwise you will have a complete mess. Line up all the chicken strips on a greased baking sheet.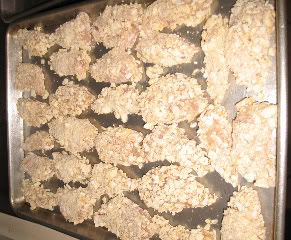 Cook for 20 minutes in the oven, turning over once.  They will look like this when they are finished cooking: 

Cut one of the fattest pieces of chickens to make sure that they are all cooked through, then put all of the pieces of chicken in a bowl and toss with the entire bottle of Footy's Wing Sauce or your favorite wing sauce.  
While the chicken is baking, put 4 tablespoons of ranch dressing and 4 tablespoons of fat free feta cheese crumbles in a container.  Mix well and put the sauce into the refrigerator to cool until the chicken is done baking. Cut up the celery and ENJOY!
Your finished meal will look like this: