Printable Version of Chocolate Cake with Peanut Butter Frosting Recipe
This is my birthday specialty.  This weekend I baked this delicious cake for my dad's 66th birthday! Happy Birthday, Pop! I got this recipe from Ina Garten, it's called Beatty's Chocolate Cake, however I adjusted the ingredients slightly and also changed the frosting to a healthier alternative.  Enjoy! 

- 1 3/4 cup all-purpose flour
- 2 cup sugar 
- 3/4 cup good cocoa powder (I like Ghiradelli Sweet Ground Chocolate and Cocoa) 
- 2 tsp baking soda 
- 1 tsp baking powder 
- 1 tsp kosher salt 
- 1 cup McArthur Cultured Lowfat buttermilk, shaken 
- 1/2 cup vegetable oil (I like Mazola)
- 2 extra-large eggs, at room temp 
- 1 tsp pure vanilla extract (I recommend Nielsen-Massey Madagascar Vanilla Extract) 
- 1 cup freshly brewed hot coffee (or espresso if you prefer!)
- Pam for Baking with Flour
Frosting Ingredients: 
- 4 cup sifted powdered sugar
- 1/2 cup of 1% or skim milk
- 2 tsp vanilla
- 1/3 cup creamy organic peanut butter (I like Publix)
To make the cake: 

Preheat the oven to 350° F. 
Sift the flour, sugar, cocoa, baking soda, baking powder, and salt in a bowl.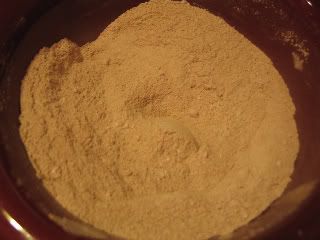 Combine the buttermilk, oil, eggs, and vanilla in the bowl of an electric mixer fitted with a paddle attachment and mix on low speed until combined. With the mixer on low speed, slowly add the dry ingredients to the wet. With mixer still on low, add the coffee/espresso and stir just to combine, scraping the bottom of the bowl with a spatula. 
Pour the batter into the prepared pans and bake for 35 to 40 minutes, until a cake tester comes out clean. Take the cakes out of the pan immediately, turning them over onto a cooling rack.  Let them cool there completely.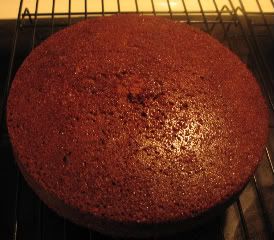 To make the frosting: 
Beat peanut butter in a mixing bowl until it is fluffy. Add 2 cup of the powdered sugar gradually, beating constantly. Add 1/4 cup of milk and the vanilla; slowly beat them in. Slowly beat in the rest of the powdered sugar and another 1/4 of milk. If necessary, add a little more milk if frosting is not spreadable. Sorry that I do not have pictures of this!  Tip: Frost the cake right away, it will harden and not be smooth enough to spread.  Also, wetting the knife will also help spread if the frosting hardens.  
To frost the cake: 
Place 1 layer, flat side up, on a flat plate or cake pedestal. With a knife or offset spatula, spread the top with frosting. Place the second layer on top, rounded side up, and spread the frosting evenly on the top and sides of the cake.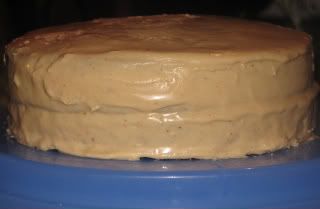 Please leave a comment if you end up making this delicious cake! Thanks!