Printable Version of Bruschetta Recipe
Andrew and I LOVE bruschetta.  We have made this recipe a few times and everyone always loves it.  I was rushing while I made it today for my dad's party so I didn't take a lot of pictures.  Let me know if you have any questions! 

- 4 cups peeled seeded and chopped tomatoes (any variety but Romas work well)
- 1/4 cup fresh basil leaves sliced very thinly (see notes at bottom)
- 4 cloves fresh garlic, smashed and very finely chopped 
- 2 Tbsp fresh oregano minced

- 1 Tbsp fresh thyme minced
- Pinch kosher salt, to taste
- Fresh ground pepper to taste
- 2-3 Tbsp extra virgin olive oil 
- 1 Tbsp balsamic vinegar
- 2 baguettes (any French bread would work, but the skinny crusty baguette works the best)
First, cut the tomatoes into quarters like so: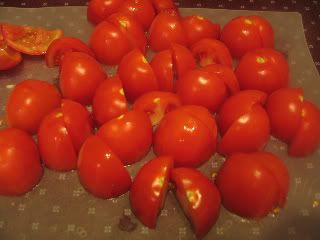 Then, clean out all of the seeds from the tomatoes using a spoon, so that they look like this: 
This is everything that came out of the tomatoes: 
After that, press each piece of tomato down and cut it into strips, then cubes.  All of the tomato pieces should be about the same size, like so: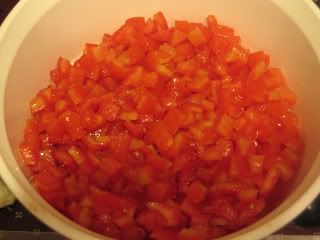 For basil, a chiffonade works best. To do this, stack fresh basil leaves one on top of the other until you get several leaves. Then roll up the leaves. Slice very thin slices off of the little roll of leaves. You will get a very thin shredded look to the basil without bruising the leaves. Mince the thyme and oregano as well as the garlic.  
Combine tomatoes, chopped garlic, herbs, salt, pepper, olive oil and vinegar in a glass or plastic bowl. Mix well and refrigerate for at least 30 minutes.

While the bruschetta mixture is cooling, preheat the oven to 400 degrees. Slice baguettes on the diagonal in thin slices. Drizzle the slices with olive oil and bake the bread in the oven for about 10 minutes or until toasted. After the bruschetta has cooled and the bread is toasted, top a little bit of the bruschetta mixture on each slice of bread. 
The final product will look like this: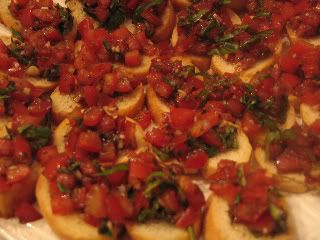 Enjoy!!