The soup is a Martha Stewart Recipe that I adapted (made better!).  We served it on Thanksgiving as an appetizer and everyone loved it, even the picky eaters in the family - you know who you are! 

Roasted Fall Vegetable Ingredients: 
- 2 pounds (about 1 medium) butternut squash cut into 1 1/2 inch pieces
- 2 pounds new red potatoes (12 to 14), well scrubbed and quartered 
- 1 pound medium red onions (about 2 to 3) peeled and quartered
- 1 pound of carrots (6 to 8 medium) halved lengthwise if thick, and cut into 1 1/2 inch lengths
- 6 garlic cloves, peeled and smashed 
- 4 tablespoons of olive oil 
Preheat the oven to 450 degrees.  Place the vegetables and garlic on a baking sheet lined with tin foil.  You may need two baking sheets.  Drizzle with olive oil, sprinkle kosher salt and grind the black pepper all over the veggies. 
Roast the vegetables in the oven until tender and beginning to brown, about 45 minutes.  Toss the vegetables and rotate the sheets halfway through cooking.  
Here is what the veggies look like after they are done!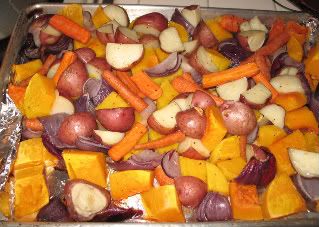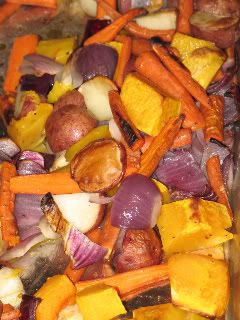 Serve these vegetables as a side with roasted chicken, mmm mmm good! 
Roasted Fall Vegetable Soup Ingredients: 
- 6 cups of roasted fall vegetables (see above recipe)
- 1 tablespoon of freshly squeezed lemon juice (from 1/2 of a lemon)
- 1/4 of a cup of 2 percent milk 
Working in batches, puree vegetables with a blender.  I put three cups of vegetables in the blender with 1 cup of water. Pour each batch of the puree through a fine mesh sieve into a large saucepan, pressing the puree through with a spoon or spatula.  Discard any chunks that won't fit through the sieve.  
Here are some of the veggies inside the blender before the water was added: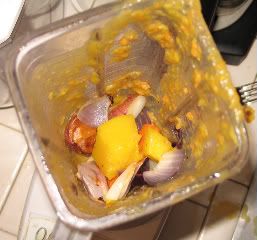 Here is what is what wouldn't go through the sieve (Discard this!): 
Here is the smooth puree that is in the pot:
After you have finished pureeing all of the vegetables, heat the soup on medium heat.  You may need to thin the soup with a little bit more water if necessary.  Then, add the lemon juice, milk, salt, pepper, and sugar.  The salt and pepper is to taste, don't be afraid to add a lot if necessary! :) 
Serve your soup with some toasted bread or crackers.  Enjoy!