Printable Version of Pumpkin Rice Krispie Treats Recipe
Hello everyone!  Sorry it has been so long since I have updated the blog, I have been having a flare up of my MS.  I am feeling better though, so today I decided to make an easy and fun Halloween treat! 

I made up this recipe last year when I was trying to think of something diet friendly to bring to a Halloween party.  They are extremely easy to make, healthier than the original Rice Krispie Treats, and everyone seems to love them.  Enjoy! 
- 6-7 cups of Rice Krispie Cereal (Preferably Kelloggs)
- 1 bag of  Kraft Jet-Puffed Marshmallows 
- 1.5 tablespoons of Mazola Vegetable Oil (Or any other flavorless and odorless oil - this is very important!)
- 2 boxes of Mike & Ike candy 
- Orange food coloring (or a mixture of red and yellow food coloring)
- Pam non-stick cooking spray
- Wax paper or tinfoil sprayed with Pam
First, cover two cookie sheets with wax paper.  If you do not have wax paper, you can use tinfoil.  If using tinfoil, spray one of the cookie sheets with Pam.  
Heat the vegetable oil in a large saucepan on medium-low heat.  Then, add the entire bag of marshmallows.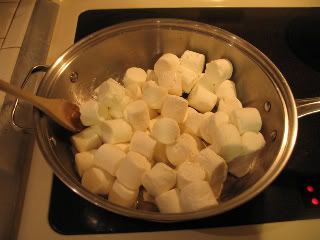 Start stirring with a wooden spoon and continue stirring constantly until the marshmallows are almost completely melted.  After that, add a generous amount of food coloring until the marshmallows are a deep orange color.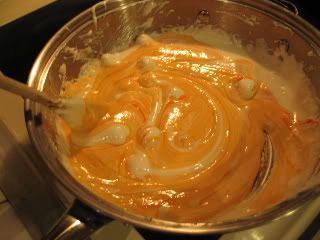 Continue stirring until all lumps are gone. 
Take the saucepan off of the heat and add 6-7 cups of rice krispie cereal.  Stir the cereal until it is completely incorporated.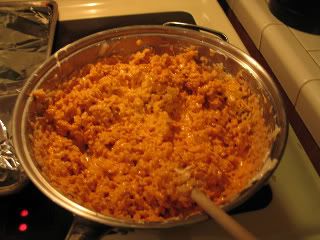 Scoop all of the rice krispie treat mixture onto one of the cookie sheets (use the greased cookie sheet if using tin foil).  Let the mixture cool for about a minute (or less) until it is cool enough to handle with your hands. 

Now, working quickly, grab handfuls of the rice krispie mixture and roll it into a ball.  The balls should be about the size of golf balls.  Put each ball on the second cookie sheet (use the non-greased cookie sheet if using tin foil). You need to work continuously until you finish, you don't want the mixture to harden on you.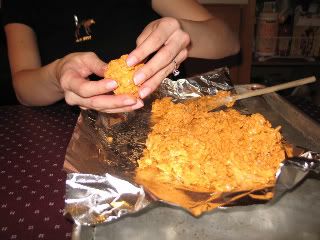 After all the pumpkins are made, poke the top of each one with your finger and place a green Mike & Ike candy in the top.  Voila! You have Pumpkin Rice Krispie Treats! There should be about two dozen or more.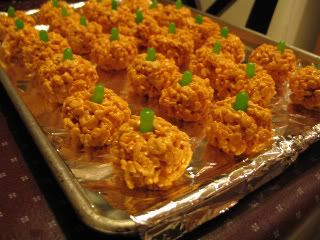 Tip:  I suggest that you wrap them with saran wrap or put them in an airtight container so that they don't get stale.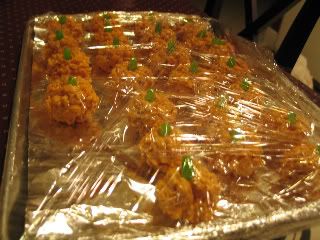 Please leave a comment if you make these delicious treats! Happy Halloween!